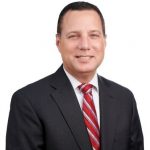 St. Louis – Gardner Capital, a family-owned private equity firm specializing in multifamily housing and renewable energy development and investment, recently hired Ed Vandeven as the company's Chief Financial Officer and based in its St. Louis Corporate Office. A certified public accountant, Vandeven most recently served as Senior Vice President of Finance for Marcone Auto Parts.
Vandeven brings more than three decades of experience in complex corporate finance, financial services and public accounting to the Corporate Finance Group of Gardner Capital and has also served as CFO for 1st Choice Delivery and Catastrophe Solutions International as well as Vice President, CFO and Treasurer for Airport Terminal Services, Inc. in St. Louis, among others.
"Ed's progressive focus and experience in identifying unique and collaborative partnerships across a diverse set of industries and markets, along with an impressive level of experience in complex financial structuring involving both medium and large enterprises made him the ideal person to lead and grow our Corporate Finance Group and we are pleased to welcome him to Gardner Capital," said Michael Gardner, President and CEO of Gardner Capital. "Ed has led high-performance teams at a number of industry-leading companies and his ability to connect people, service and technology will be a tremendous asset to our growing company and financial platform."
Vandeven has a master's degree in Business Administration from St. Louis University as well as a bachelor's degree in Accounting from the University of Missouri, Columbia.
About Gardner Capital
Gardner Capital is a private equity firm with multiple operating businesses focused on affordable housing and renewable energy development, tax credit syndication, and real estate-related investments with offices in St. Louis, Dallas, Houston, Austin, San Francisco, Atlanta and Orlando. Since 1992, Gardner Capital has placed more than $3 billion of equity in affordable housing and related investments. In recent years, Gardner Capital added a rapidly growing national platform for solar development and investment, expanded its commitment to renewable energy and sustainability across its investment platform and operating companies. Gardner Capital is committed to investing in communities and improving the wellbeing of families by developing, investing and raising capital for affordable housing and clean energy-related businesses.
Visit www.gardnercapital.com for more information.
For additional information, please contact:
Chief of Staff, Gardner Capital Corporate, Mike Koehler
314-561-6065